Nail Art
•
Posted on May 28 2014
And with all the accessories, make-ups, hair style products, why should nails be left behind? Nail Art is in boom these days and is quite common in salons and parlours. There are also spa's dedicated to decorating finger nails and toe nails which are known as Nail Spas. And why not to beautify your nails as well. When we spend few dough on pedicures and manicures why not enhance them more.
From the historical perspective, nail art was used in ancient times. It firstly emerged in ancient Babylonia when males coloured their nails with kohl. The nail colour indicated status where males of higher class wore black while males of lower class wore green. From 5000 B.C. to 3000 B.C., ancient Egyptian women used nail art to indicate social status. They decorated their nails using the juice of henna plant.
The well-known French manicure emerged on Paris runways in 1976 by Jeff Pink, the founder of cosmetic company ORLY, who wanted to create nail style that would be practical and versatile. In the film Pulp Fiction, it was said Uma Thurman started the dark nail polish craze during the 90's. Her character in the film wore dark red nail polish called Rouge Noir by Chanel. In ancient times, nail art displayed social class while from the 19th century it became allowed for everyone and became considered as a part of fashion as well.
Throughout time, nail art became a part of fashion and beauty while in history it was a part of aristocracy and determined social status.
Lets take a lot at few designs that you would probably try or the ones which can get your creative juices flowing to create a few of your own Nail Art Designs.
Casual nail art
Be it for an outing with your girlies or just a casual lunch, funky designs would surely pep up your look.
Formal nail art
Even if its a normal day at work, dazzle from tip to toe and try some simple yet classy designs.
Party wear
Go with bold colours, dark shades, and a touch of shimmer on your nails
Wedding nail art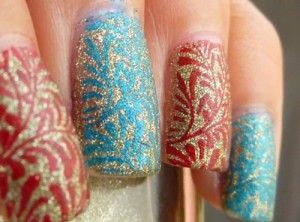 Wondering, Nail art with Saree? Of course, why not. when you take the efforts to don your best traditional outfit, give a little traditional touch to your nails as well. Try using colours of the outfit you would be wearing and do a bit of creativity with it.
Disclaimer: The images are just for reference purpose. We don't claim ownership of any of them.
The images and videos used are property of the respective owners.
Contest: Share with...

So on the occasion of Valentine's day, we bring you an opportunity to win a saree. Simply share with us you most memorable Valentine's day experien...

Read More

Saree from the Sout...

Sarees are an Indian traditional outfit but the variations found is them seem to be endless. So much of the different sarees from different regions...

Read More

Contest: What is th...

The festival of kites is just around the corner and with it, we have come up with one more opportunity for you to win a saree. Simply tell us the s...

Read More