Drape it in style
•
Posted on March 28 2014
The wedding season is here. And the first thing that comes to our mind is what to wear? If you opt for a Saree there are different styles to drape it and the same goes for Dupattas. Our Indian ethnic gives us a lot of opportunities to try different styles with a single attire. So if you think there's just one way to carry your dupatta, be it on a lehanga or a Salwar kameez than think again.
We bring you some very interesting and glamorous ways of draping a Dupatta
Front flow Dupatta: It's a simple yet elegant style of drapping a dupatta. Pleat the dupatta and pin it to your left shoulder letting it fall at the back. Now fold the front part of the dupatta and bring it to your forearm.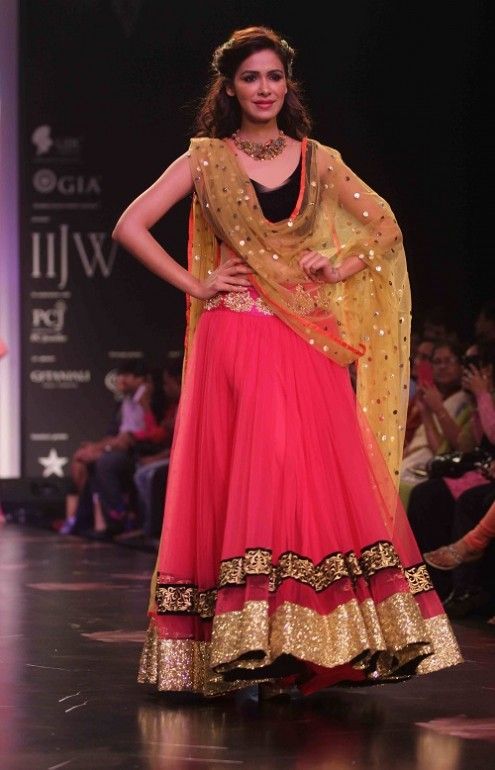 Dual side Dupatta: This style of draping might sound a bit complicated, but good things don't come easy. The dual side dupatta gives you a saree look that's neatly tucked in. This way of draping is apt for sangeet or any function that needs you to shake a leg. Tuck one side of the dupatta in the lehanga. Now take it from under your arm, wrapping it around your hips and bringing it in the front. Now leave it on your left shoulder like the saree pallu. Take the end of the pallu and tuck it in your lehanga.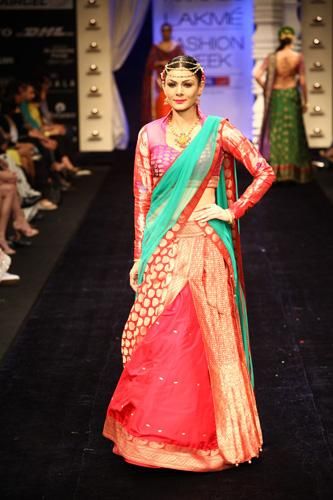 Back U: If you have a heavy embroidered choli and a dupatta, than this is the idle way to flaunt the intricate design and the embellishments on it. Pleat the dupatta and pin it on to your left shoulder. Let atleast ¼ of its length fall in the front. Now take the other end of the dupatta flowing at the back left side of your shoulder and bring it to the right. Tuck it in the corner of your lehanga.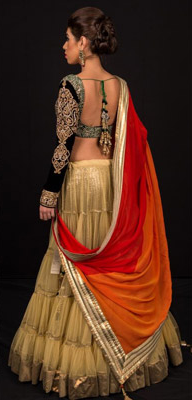 Wrist tie-up Dupatta: Add a twist to your one-sided draped dupatta. Pleat your dupatta and leave it on your left shoulder. Take the end of your dupatta which is at the back and tie it to the wrist of your opposite hand.
The Royal Style: Get a rich and royal look with this drape. This style is sure to add elegance and grace to a bride. For this your need two dupatta. Take one dupatta over the head and leave it falling on your shoulder. Now take another dupatta and wear on your left shoulder, covering the hips bring it to your opposite wrist and tie it or just tuck it in your lehanga.
There's a lot more one can do with a dupatta, it has the capacity to change the look of an outfit. If you have more ideas on dupatta draping styles, than all you have to do is, post your ideas on our blog.
Disclaimer: The images are just for reference purpose. We don't claim ownership of any of them.
The images and videos used are property of the respective owners.
Contest: Share with...

So on the occasion of Valentine's day, we bring you an opportunity to win a saree. Simply share with us you most memorable Valentine's day experien...

Read More

Saree from the Sout...

Sarees are an Indian traditional outfit but the variations found is them seem to be endless. So much of the different sarees from different regions...

Read More

Contest: What is th...

The festival of kites is just around the corner and with it, we have come up with one more opportunity for you to win a saree. Simply tell us the s...

Read More